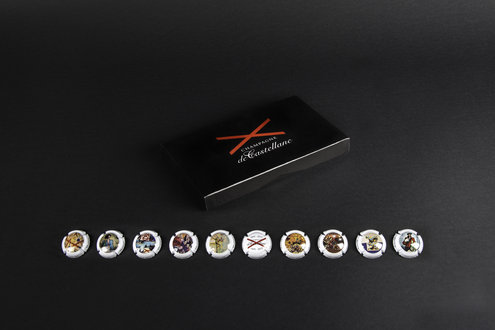 The "120 years" champagne cap collection
Real art collectors, champagne cap lovers or simple amateurs, the De Castellane House comes back with a new champagne cap collection. On the occasion of the House's 120 years, Champagne De Castellane proposes an exceptional case with 10 collector's caps.
Since 1902 and the first advertising drown by the Italian painter Leonetto Cappiello, many artist staged the De Castellane House through their creation, placing the house as a true patron of art. Since then, the house uses to represent their posters on various caps series.
This new collection honours these artists and will delight your celebrations of the year's end.
This collection is available directly at the house De Castellane or on order by phone or mail. Price: 50 euros (excluding shipment)
Limited edition
Tel: +33 (0)3 26 51 19 19
Email: contact@castellane.com