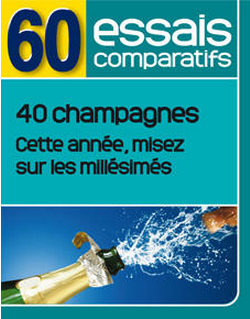 This year, target the vintages Champagne !
"Producers of champagne learned to anticipate climate hazards and to multiply cuvées. Bruts, blancs de blancs or vintage, it's not easy to get pleasure for a reasonnable price. Our professional jury helps you to choose. Our annual tasting brings out some contrasting results (...) the Blanc de Blancs and mainly the Vintages seduced our jury.
Vintages are usually the top quality of the production, an affirmation confirmed by the notes of our jury.
Non-vintage champagnes represent almost 95% of the production. However, when producers find out that grapes and musts of the harvest are of an exceptional quality, they sell the wines with the vintage written on the label, after 3 years of maturation in cellar. (...) It is in theory the best, and their price are, of course, proportional to this supposed quality.
Does the quality correspond to the reality ? The answer is positive, according to the results of our tasting : over the ten bottles of vintages 2006 and 2004 tasted by our jury, seven get 12 or more (on 20), the prize goes to the champagne de Castellane 2004 with the best mark (14.5/20) for an extremly reasonable price".
Download