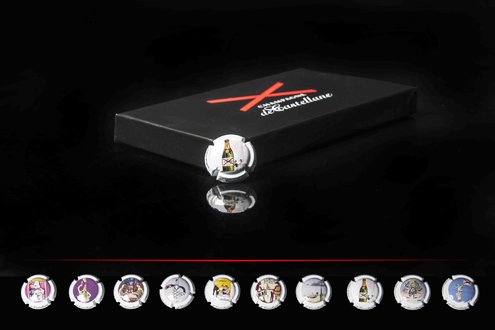 The "kidding" champagne cap collection
Since 1902 and the first advertising drown by the Italian painter Leonetto Cappiello, many artist staged the De Castellane House through their creation, placing the house as a true patron of art.
Since then, to honor its artists, the house uses to represent their posters on various caps series. Real art collections, these little metallic pieces are pleasing the collectors throughout the world, as well as simple aficionados.
In 1995, for the centenary of the house, and to remind its history, the famous caps series of De Castellane have been re-printed in special gift-boxes. These collections, edited every 2 years, celebrate the artists who have pictured the symbol of the house, through different themes, and thus according De Castellane a real "patron of art" status.

The "kidding" collection serie box gather ten caps illustrating De Castellane with humor, fantasy, and lightness.

This collection is available directly at the house De Castellane or on order by phone or mail. Price: 25 euros (excluding shipment)

Tel: +33 (0)3 26 51 19 19
Email: contact@castellane.com