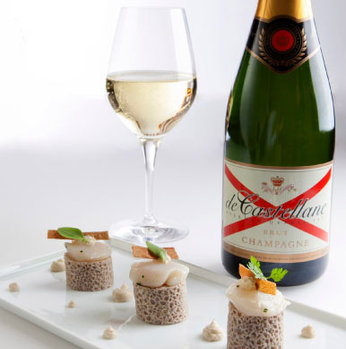 New Year Celebrations By Julien Thomasson of the Chateau de Courcelles 1* Michelin
For 4 persons :
Combine 100g of buckwheat flour with 200g of water, a pinch of salt and a dash of olive oil. Cook in a oiled pan. Leave to cold.
Cut the celery in small pieces and cook it in a half doze of water and a half doze of milk, cover and let cook slowly. Once cooked, drained and mix. Let cool down.
Mix 40g of salted-butter with a dash of Yuzu juice and a quart of crushed seaweed.
Cut slices of salmon, prior salted for 3 hours, then rinse. Put them in marinade made of good olive oil and lime juice.
To realize the maki, lay down the pancake cuted in rectangle. Spread with seaweed butter, put the slice of salmon on the 2/3, add a band of seaweed then roll. Put into fridge.
Mix two soup spoons of celery purée with two soup spoons of whipped cream, season, add a dash of olive oil and put it into a pastry bag.
Cut thin slices of Saint-Jacques. Put into a marinade of olive oil, lemon juice, salt and Espelette pepper.
Download