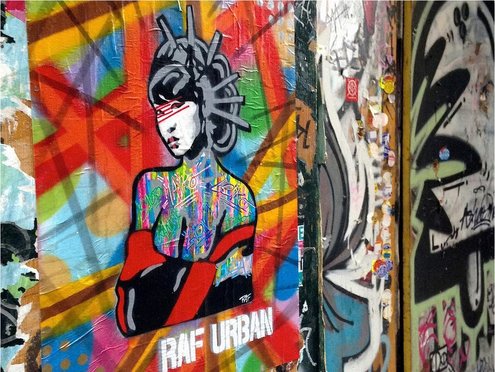 Art-exposition from the 2nd till the 23rd November - Raf urban
After the superb exhibitions of Marie Désert and Steph Mc Arthur, the De Castellane House invites you to a new artistic travel with an original exhibition about Street Art with the Parisian artist Raf. Champagne De Castellane stays in line with its art-patron tradition and keep listening about new artistic trends in order to highlight new contemporary & talented artists.
Born in the seventies, Raf grew up in the Parisian suburb with the new Street Culture influence of the 80's. He decided to create his own universe inspired from his urban life. His favourite medias are the usual items of life that can be met in the heart of the cities. He creates and distorts on road signs, metro plans & urban objects. The painting spray is the essential tool that leaves him totally express himself. His work can be found on the city walls where he share his last creations by using a technique based on bonding. Mostly visible in the Parisian region he also take opportunity of travels to spread his creations on a wider scale.
Come discover this talented artist in our visit-room from the 2nd till the 23rd November.
Download