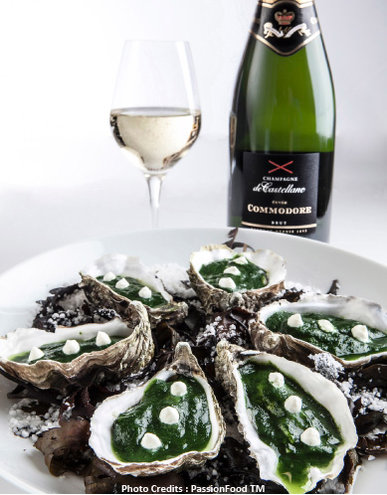 "Special Oysters on Duck Foie Gras Sauce and Watercress Coulis"
For 4 people :
16 oysters (Marennes Spéciales numéro 3)
100g of duck foie gras
60g of liquid cream
60g of chicken bouillon
1 egg
1 bunch of cress
Salt and pepper

Oysters
Open the oysters and empty it, then clean the shells and dry it 5min in oven. Poach oysters in their water and drain.

The duck foie gras sauce
Put 100gr of little cube foie gras in a saucepan. Add the chicken bouillon and the cream. Add the whole egg with salt and pepper. Warm it, then mix in order to have a thicker cream.
On a plate covered by salt, put the empty shells and fill it with the foie gras cream. Put in oven for 7 min, thermostat 6/7. Remove from oven and let cool down. Put one oyster in each shell and place it in the fridge.

Watercress coulis
Fill a saucepan with water, boil it and add salt and cook the cress in it for 5 min. Cool it down with iced water. Drain and blend.

Arrangement
Into a dish place some seaweed, then the 4 oysters. Put a spoon of coulis on the top of it.
Enjoy this dish with a glass of De Castellane Brut Commodore.

Download