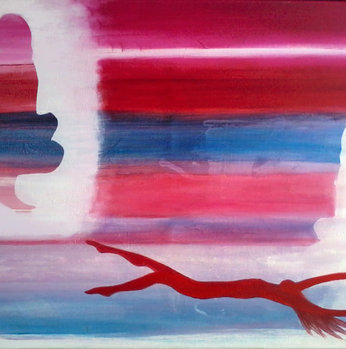 Art-Exhibition of artist-painter Marie Désert from the 7th of September till the 4th of October
From the 7th of September till the 4th of October, Champagne de Castellane will welcome the visual artist Marie Désert. Since its creation, De Castellane has maintained a close relationship with Art and pursue this tradition of cultural heritage patronage. The house is also partner of the "Young Talents" competition created by Rémi Castillo, in which Marie désert participated in 2014 for the visual-artist category.

Artist and painter since 2002, Marie Désert explores through her work, the relation between color, material paint, time and light. Marie Désert deals with the color sometimes as a subject and sometimes as a medium.
The white is an integral part of her palette.She dilutes the material paint in watercolor, in order to play with transparency and to turn the colors on. She also uses the thickness to intervene by scratching once again.Recently, Marie Désert works on the three-colour printing with yellow, cadmium red and prussian blue.
Marie Désert likes to paint quickly and in several steps to put into perspective and come back. The spontaneity allows her to let things go and so reveal the unforeseen.